Treating With HyperHEP B
HyperHEP B is an immunoglobulin that provides rapid immune coverage in potentially life-threatening situations.1 Vaccines can provide lifelong protection but take weeks to build efficacy, however, HyperHEP B provides immediate protection that allows the vaccine the time needed to establish active immunity in high-risk situations.1-3
HyperHEP B contains high titers of antibodies, equivalent to or exceeding the potency of anti-HBs in a U.S. reference hepatitis B immune globulin standard (established by the Center for Biologics Evaluation and Research, FDA), and provides rapid immune protection for postexposure prophylaxis (PEP).1,2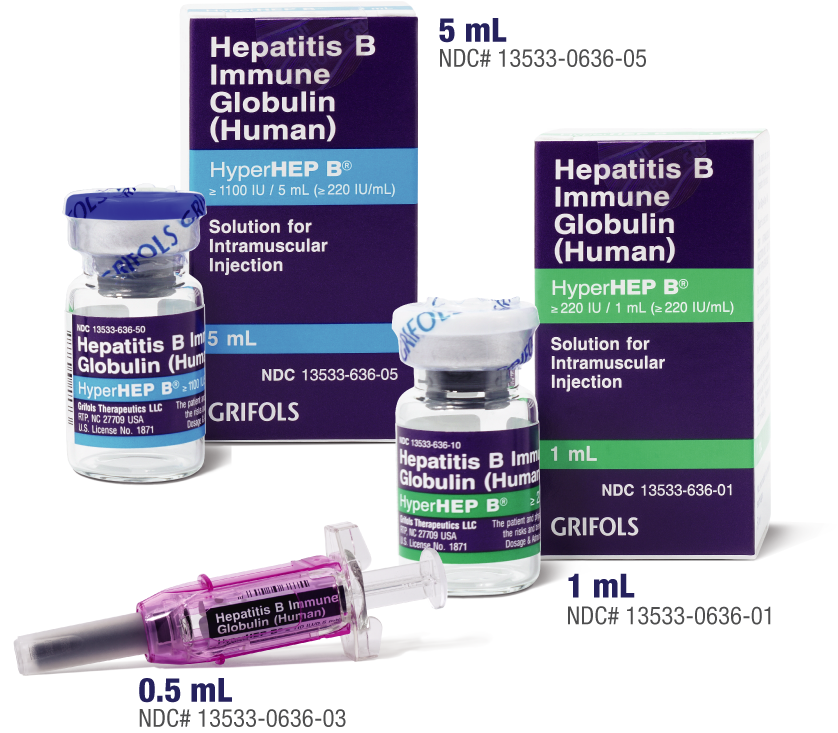 Trusted Dependability
Established history—more than 45 years of consistent supply and product support
Mercury (thimerosal) and latex free
Unique multi-step caprylate chromatography purification process
US Food and Drug Administration (FDA) labeling for capacity to remove pathogenic prions
Only hepatitis B immune globulin product in a convenient prefilled syringe specifically for neonatal administration
HyperHEP B is indicated for PEP in the following situations1:

Acute Exposure to Blood Containing HBsAg
Hepatitis B virus (HBV) infection can develop after either parenteral exposure (eg, by accidental needlestick), direct mucous membrane contact (eg, accidental splash), or oral ingestion (eg, pipetting accident) involving hepatitis B surface antigen (HBsAg)-positive materials such as blood, plasma, or serum.
Perinatal Exposure of Infants Born to HBsAg-Positive Mothers
Infants born to HBsAg-positive mothers are at risk of being infected with HBV and becoming chronic carriers. This risk is especially high if the mother is hepatitis B e-antigen (HBeAg)-positive.
Sexual Exposure to an HBsAg-Positive Person
Sex partners of HBsAg-positive persons are at increased risk of acquiring HBV infection.
Household Exposure to Persons With Acute HBV Infection
Because infants have close contact with primary caregivers and have a higher risk of becoming HBV carriers after acute HBV infection, prophylaxis of an infant less than 12 months of age with HyperHEP B and hepatitis B vaccine is indicated if the mother or primary caregiver has acute HBV infection.
Clinical Efficacy
Immediate Protection With HyperHEP B1,4
The vaccine alone is not enough: immune globulins like HyperHEP B, when used in combination with a vaccine, can prevent infection by hepatitis B. The administration of the recommended dose of this immune globulin generally results in a detectable level of circulating anti-HBs, which persists for approximately 2 months or longer.
Acute Exposure to Blood Containing HBsAg1
For inadvertent percutaneous exposure, a regimen of 2 doses of HyperHEP B—1 given after exposure and 1 a month later—is about 75% effective in preventing hepatitis B in this setting
Perinatal Exposure of Infants Born to HBsAg-Positive Mothers1
For an infant with perinatal exposure to an HBsAg-positive and HBeAg-positive mother, a regimen combining 1 dose of HyperHEP B at birth with the hepatitis B vaccine series started soon after birth is 85%–95% effective in preventing development of the HBV carrier state
Regimens involving either multiple doses of HyperHEP B alone or the vaccine series alone have 70%–90% efficacy, while a single dose of HyperHEP B alone has only 50% efficacy
Sexual Exposure to an HBsAg-Positive Person1
For sexual exposure to a person with acute hepatitis B, a single dose of HyperHEP B is 75% effective if administered within 2 weeks of last sexual exposure
Safety Is a Priority1
Always a leader. Always dependable.
Grifols has provided more than 45 years of consistent supply and product support.
HyperHEP B offers1,5: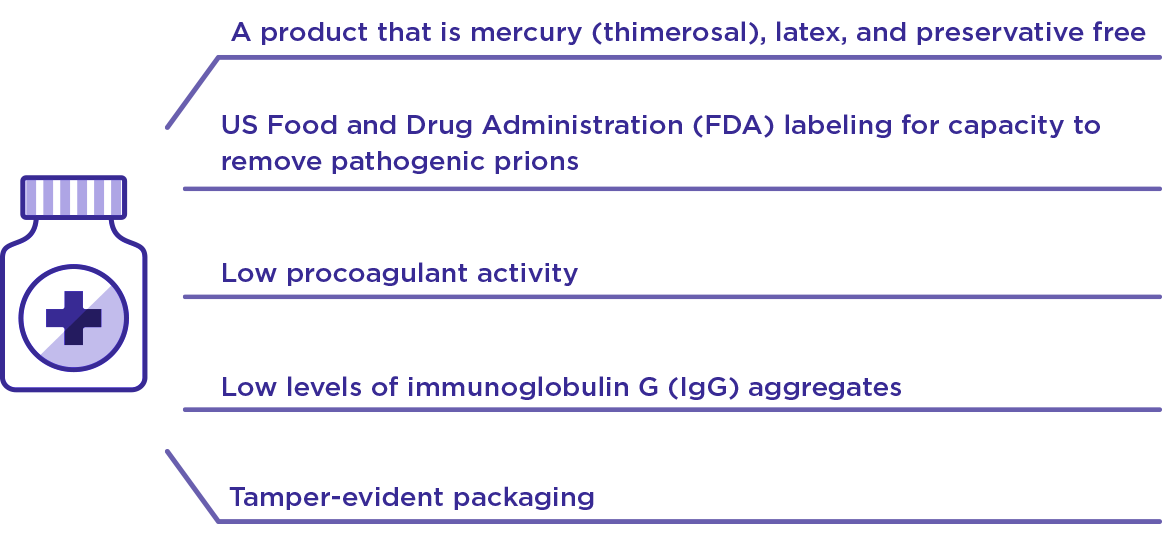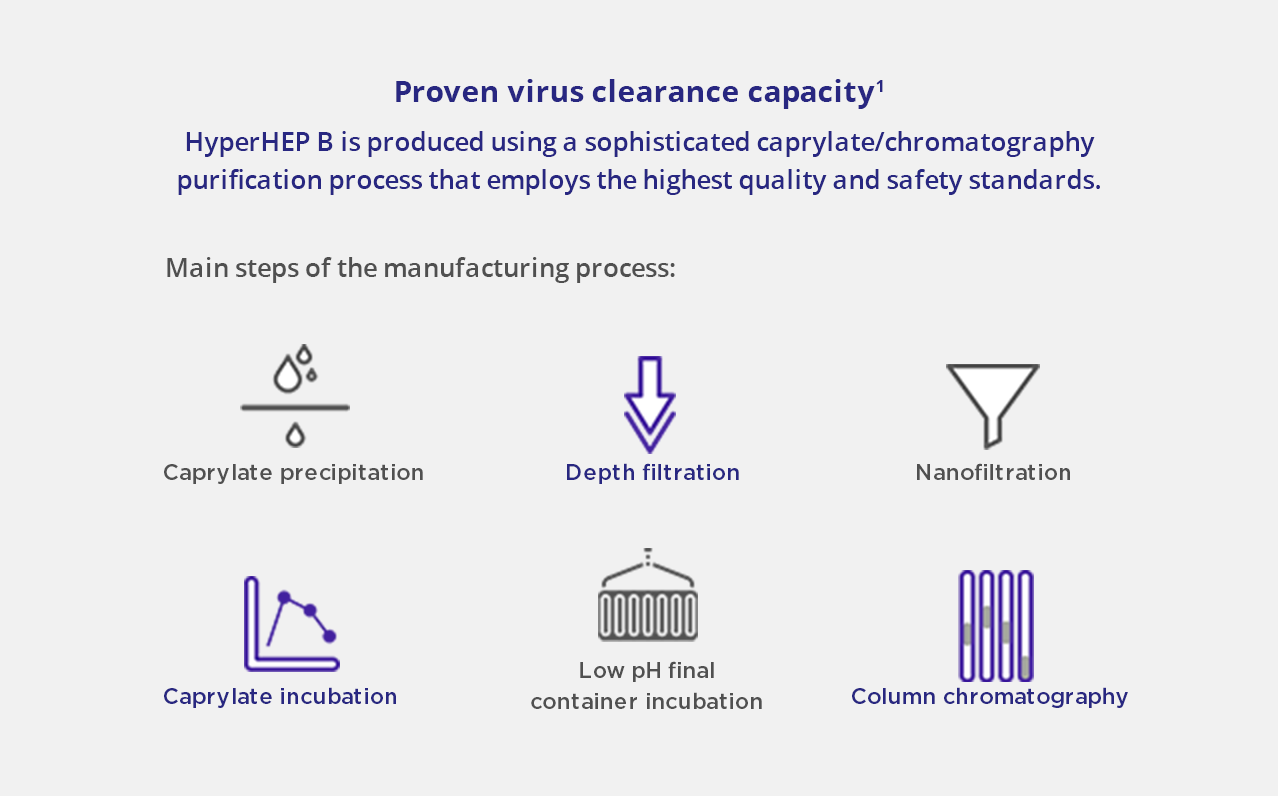 The capacity of the HyperHEP B manufacturing process to remove and/or inactivate viruses has been demonstrated by laboratory spiking studies on a scaled-down process model using a wide range of viruses with diverse physicochemical properties. This process provides the final product with a high margin of safety from the potential risk of transmission of infectious viruses.
The caprylate/chromatography manufacturing process was also investigated for its capacity to decrease the infectivity of an experimental agent of transmissible spongiform encephalopathy (TSE), considered as a model for the variant Creutzfeldt-Jakob disease (vCJD) and Creutzfeldt-Jakob disease (CJD) agents. These studies provide reasonable assurance that low levels of vCJD/CJD agent infectivity, if present in the starting material, would be removed by the caprylate/chromatography manufacturing process.
How the unique HyperHEP B manufacturing process works

HyperHEP B is made from human blood and may carry a risk of transmitting infectious agents, eg, viruses, the vCJD agent, and, theoretically, the CJD agent.
Additional Safeguards for All Plasma Donations
Grifols employs a comprehensive tracking system called PediGri® that ensures full traceability from every donation.
Traceability and Transparency of Information
Grifols' manufacturing process has a comprehensive computer system called PediGri® that ensures full traceability from every donation.
Each plasma unit is coded and computer-traced from the start of the process until the units are transformed into a final product
Users can access the donation number and the viral screening conducted at the origin of the donation with the product lot number

Specific information is also available, including the total number of plasma units, the total volume of plasma, the certificate of analysis showing the plasma origin viral screening, and biochemical characteristics of the final product

Users can access the applicable product SPC/package insert for their country
For immediate, easy, and convenient access to all the information on the origin and quality of Grifols' plasma derivatives, visit www.pedigri.grifols.com.
Coding Information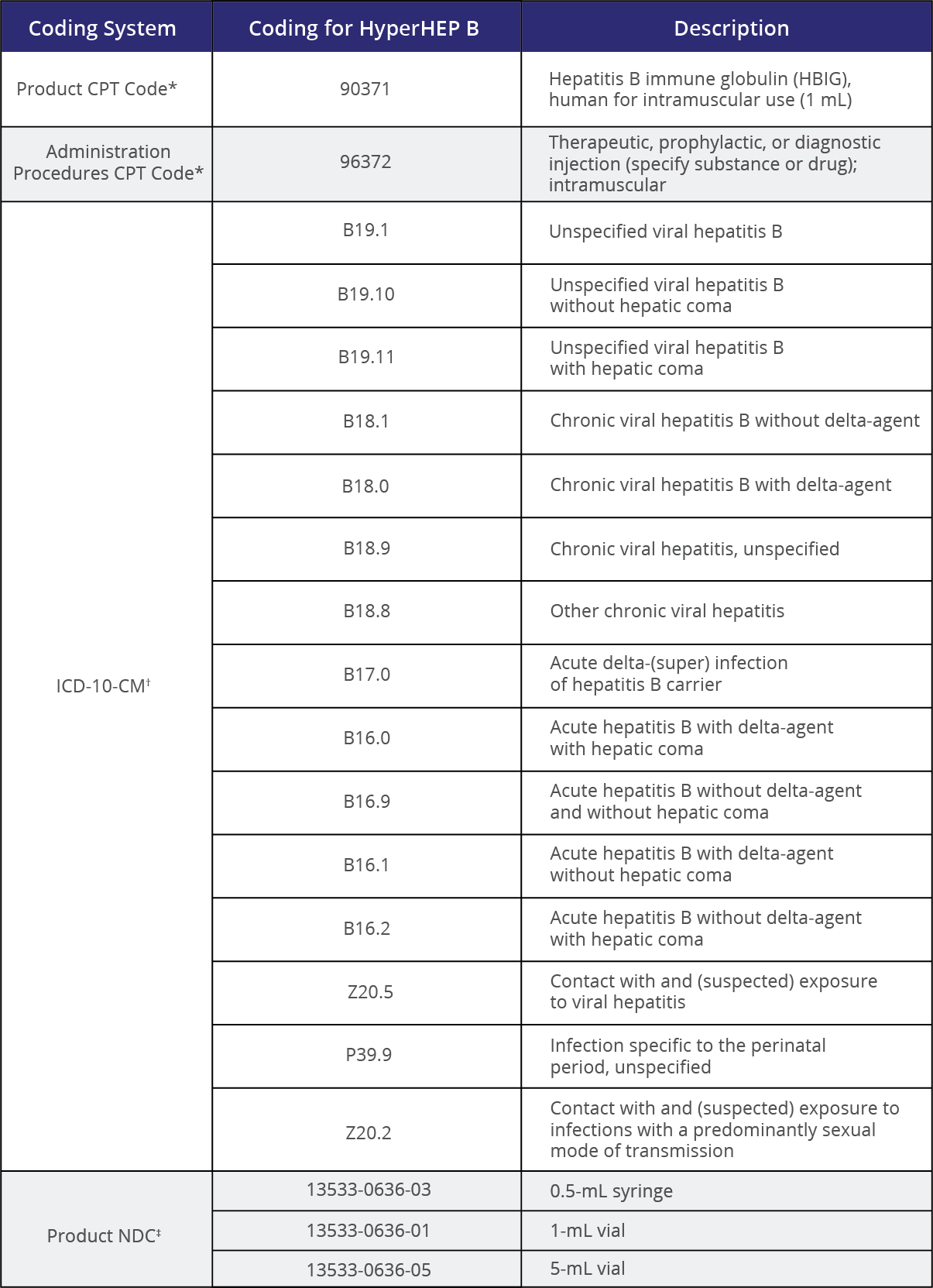 download-information-guide-hypermunes